WEEK COMMENCING: 19th March 2017
MEMBERS: Big Ant, Little Ant, Dean, Jonny, Jay
TOTAL FISH: 52
TOTAL WEIGHT: 1294lb
CATCH:
BigAnt:
Commons: 34lb, 28lb,
Mirrors: 40lb, 36lb, 29lb, 25lb, 34lb, 21lb
Pike: 12lb
LittleAnt:
Commons: 31lb, 30lb, 19lb, 16lb, 11lb
Mirrors: 39.5lb (pb), 39lb, 35lb, 31lb, 29lb, 3x 28lb, 25lb, 3x 24lb, 20lb, 11lb
Dean:
Mirrors: 30lb (pb), 29lb, 2x 28lb, 26lb, 24lb, 17lb,
Jonny:
Commons: 20lb, 18lb, 12lb
Mirrors: 31lb (pb), 30lb, 28lb, 26lb, 2x 24lb, 20lb
Jay:
Commons: 12lb
Mirrors: 32lb (pb), 24lb, 21lb, 20lb, 17lb, 12lb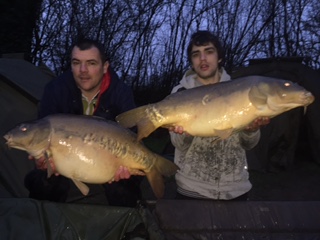 BIGGEST FISH: 40lb Mirror
TEAM COMMENTS:
Weather has been wet all week. Stayed out fishing on 3 nights. The lodge, lake, food have been second to none. 3 people fishing in France for the first time all p.b.
Big thanks to Gary for looking after us all. Already booked for next 2 years.
Cheers Gary !
PHOTOS: